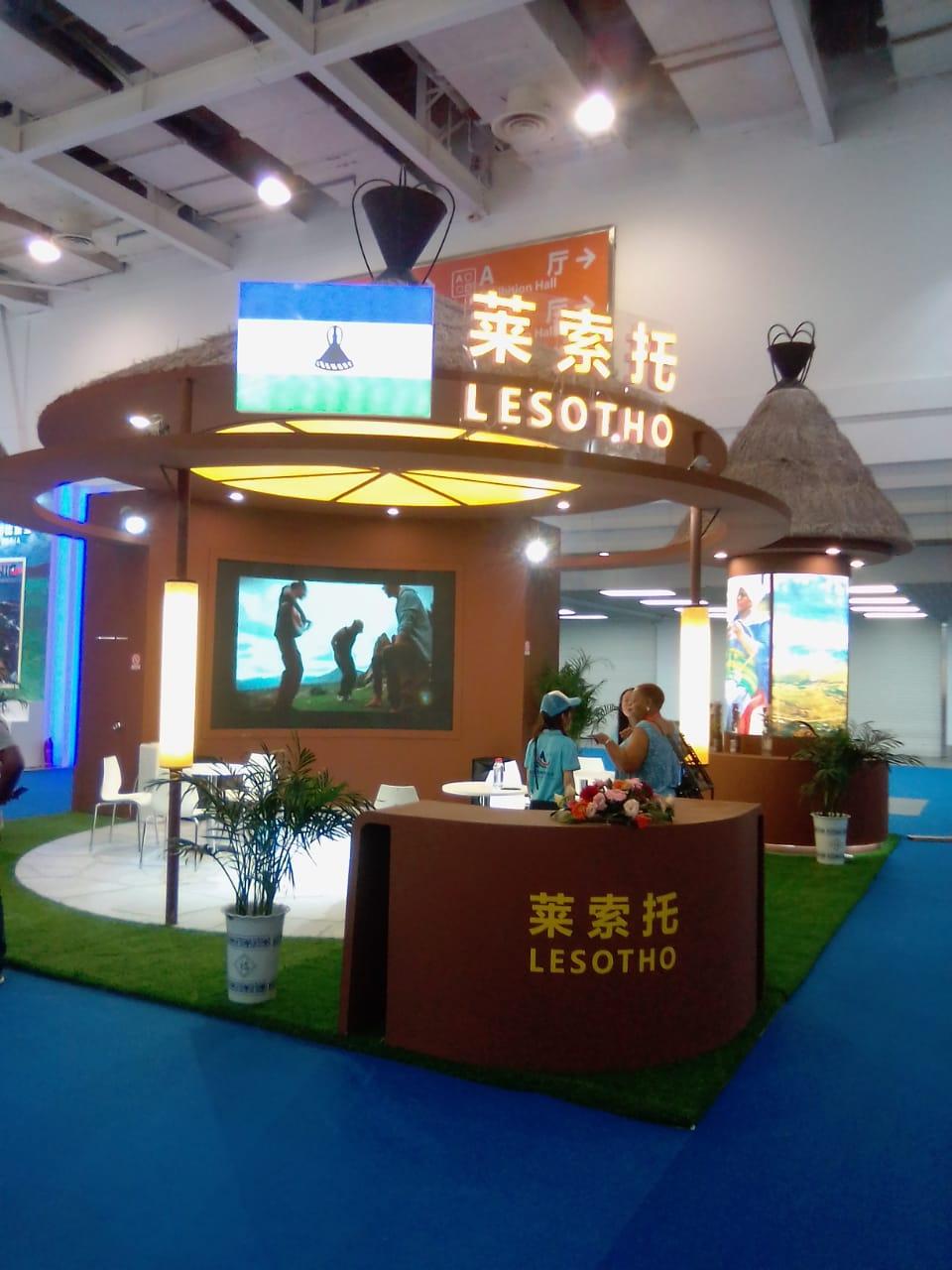 CBS Support
July 18, 2019
The First China-Africa Economic and Trade Expo (CAETE), Hunan, CHINA, 27th – 29th June 2019
REMARKS BY THE MINISTER OF TRADE AND INDUSTRY, HOUNARABLE HABOFANOE LEHANA, AT THE PRESS CONFERENCE FOLLOWING THE FIRST CHINA-AFRICA ECONOMIC AND TRADE EXPO (CAETE)-HUNAN, CHINA – 27TH – 29TH JUNE 2019; HELD AT THE MINISTRY'S HEADQUARTES MASERU, FRIDAY 05TH JULY AT 09:00HRS.
Program Director;
Allow me to begin my address by paying homage to;
His Majesty King Letsie III;
The Right Honourable the Prime Minister Dr. Motsoahae Thomas
Thabane and the Leaders of the Coalition Government;
Chief Executive Officer of the Lesotho Development Cooperation;
Representatives of Local Business Association and Directors Enterprises;
Representatives of Manufactures and Entrepreneurs;
Government Officials;
Representatives of Media Houses;
Ladies and Gentlemen.
It gives me great pleasure to address you at this momentous occasion where we will be sharing with you our experiences and lessons learned from the recent, 1st China-Africa Economic and Trade Expo (CAETE). The Expo was held in Changsha city in Hunan Province, in the People's Republic of China, from the 27th – 29th June, 2019.
Programme Director,
Representatives of Media Houses;
Ladies and Gentlemen;
The Government of the People's Republic of China invited the Government of the Kingdom of Lesotho early in January this year, to participate at the 1st China-Africa Economic and Trade Expo (CAETE). The decision to host this Expo emanated from the fact that industrial promotion, emerged as one of the eight (8) major initiatives of the Forum on China-Africa Cooperation Beijing Summit (FOCAC) held in September, 2018; whose objective was among others, to strengthen economic cooperation between China and the African Continent.
The Expo showcased economic and trade opportunities between toto macau and Africa; as well as exploring potential business opportunities for a more sustainable economic development. Alongside the Expo were also a series of Forums, Investment Promotion sessions as well as Business-to-Business negotiation platforms.
Programme Director;
Representatives of Media Houses;
Ladies and Gentlemen;
Allow me to share with you, how the already vibrant and friendly ties between Lesotho and China were rekindled through the CAETE; wherein the Chinese Government once again played a significant role in enabling Lesotho's participation at the Expo. For the Ministry of Trade and Industry in particular, Chinese government's contribution translated into us seeing some ten (10) Basotho Enterprises participate at the Expo, with quite a generous portion of sponsorship. On behalf of the Government of the Kingdom of Lesotho, and indeed on my own behalf, I wish to express our sincere gratitude to the Government of China through the Embassy of the People's Republic of China.
In particular, many thanks go to His Excellency the Economic and Commercial Counselor Mr. Ma Guoliang.
As most of us may be aware, the People's Republic of China boasts a 30% economic growth since her cooperation with Africa in 2014 and in a bid to encourage further mutual benefit from the cooperation, new features have been introduced into the Bilateral Cooperation and these include:
➢ Mapping of a clear action plan for implementation of the Bilateral Cooperation,
➢ China to support African countries on product development by providing technical guidance and capacity-building,
➢ Assistance on standards compliance of African products at production level,
➢ To meet the required Standards in China and Certification; primarily for safeguard against toxins in the products,
➢ To improve the Trade Facilitation level; and for this, China has set aside USD 5 Billion (as was reported in the Beijing Summit), to improve Market Access of African products to China,
➢ Integration of African products into the Chinese E-commerce Trade System was also cited as one of the potential growth engines from which Africa can benefit and hence a Win-Win Trade that CAETE seeks to achieve.
Currently, there are concessions for Duty-Free Quota-Free (DFQF) access of four thousand (4000) products from Africa to China. However, there is still a challenge of most African products being exported in raw state. As a solution to this challenge, it was reported that the President of China, Mr. Xi Jinping has pledged to import processed food products from Africa and this will translate into USD 40 000 Billion annually to help boost economic growth for Africa.
The Deputy-Director General of the Department of Commerce in Hunan Province undertook to establish a Research Institute for Africa-China Cooperation and to promote the best-practice models for China-Africa Trade and to develop supporting policies for China in alignment to the China-Africa Trade. The Director-Division of Country Programs encouraged support for improvement of MSMEs which have proven to largely contribute to the overall productivity of a country and hence increase the economic growth. The support can be through integration of the MSMEs into all trade models. This has proven successful for most Asian countries and the International Trade Center (ITC) availed itself for technical assistance in this regard.
Moreover, the Exim Bank pledged to set aside USD 5 Billion as support for import of products from Africa and offered customer-tailored financial services and to provide support for establishment of Special Economic Zones and Industrial Parks in Africa.
Programme Director;
Representatives of Media Houses;
Ladies and Gentlemen;
The Lesotho pavilion was well "furnished" and vibrant with a colourful spectrum of locally-made Basotho wares. These included Wool and Mohair products such as scarves, hats and shawls from the Lesotho Hand-Spun Mohair as well as Leribe Crafts. There were also beautifully crafted and hand sown leather handbags as well as machine-made tote bags and sandals made by Haka Productions and Jalad Leather works. On Textiles and Clothing, the United Manufactures Association of Lesotho (UMAL) and Maseru Tailors showcased the best of products slot138 which included men's Afro shirts, trousers, scatter cushions and home wares and kitchen accessories. A good variety of handicrafts such as Seshoeshoe-made earrings and neck pieces were also available in colourful abundance. Cosmetics and medicaments came from Tlotsa and Makhaleng products and these drew a lot of visitor's attention in the national pavilion.
Last but not least was the handmade Rosemary & Mint soap from Pula Brands (Pty) Ltd was very popular with visitors who included traders who sought to secure a supply contracts with the producer thereof. The Directors of two leather works Enterprises also entered into negotiations with a number of potential buyers.
Net Effect on the other hand, provided a rare selection of indigenous dried herbs that also drew a lot of attention among the Chinese visitors who visited the Lesotho stall. These are condiments made from wild, dried plants like bobatsi, kuena etc. The Chinese visitors who took great interest in these, even requested to have an infused boiling water brew of these dried herbs. Unfortunately we did not have a facility to do that.
Having said this, I wish to reiterate that the private sector is the core engine of growth for any country; hence the need to integrate it in all trade models as this will cater for the financial, technical and all other needs of the private sector. It is consequently recommended that the Lesotho Government's budget for private sector development judi poker, whose growth has trickle-down effect on the country's economic growth, be prioritized and beefed up; if only for selected sectors. This will help the Lesotho Private Sector not to rely on sponsorships in order to be
able to attend Expos and similar forums but instead be self-sustaining and sponsor its activities.
Programme Director;
Representatives of Media Houses;
Ladies and Gentlemen;
I wish conclude my remarks by appealing to all Basotho traders and producers to take advantage of this opportunity presented to them by the 1st China-Africa Economic and Trade Expo and ensure that they go full throttle in growing their businesses to their full potential. The People's Republic of China has opened doors for every Mosotho dealing with any commercially viable commodity to export to China; as long as they have complied with laid down and predictable requirements. As indicated earlier, China-Africa cooperation boosted the Chinese economy by 30% in previous years and continues to do so. For this reason, I strongly believe that as Basotho, we can also benefit from this and other opportunities availed by the Chinese government.
Needless to say, with a growing economy more jobs are likely to be created and poverty significantly alleviated; thereby improving the livelihoods of Basotho. With this few words, I would like to end here.
KHOTSO !!! PULA!!! NALA!!!